Below is a brief description of the steps for updating CUSTOMTOOLS. This guide is an abbreviation and includes only main features of the program update process. If you are unsure about updating the program, the update task can be also ordered from PLM Group Suomi Oy.
IMPORTANT!! BEFORE UPDATING, CHECK THAT THE NEW UPDATED CUSTOMTOOLS VERSION SUPPORTS
THE WINDOWS OPERATING SYSTEM INSTALLED ON A SERVER.
SUPPORTED OPERATING SYSTEMS FOR CUSTOMTOOLS 2020 VERSION ARE SEEN IN THIS LINK.
1. Log in to CUSTOMTOOLS portal to download the installation package. If you haven't created an account yet, click to create one by selecting link "If you don't have an account please register here".

2. After the installation package is downloaded, double-click the downloaded exe file to start the software update.
Note. As a precaution, you can always use the "Run as Administrator" option to perform the installation if it is suspected that the user does not have sufficient privileges to perform the installation.

3. When the installer detects an earlier version on the machine, select "Yes" to update CUSTOMTOOLS. If the installer displays a window stating that there are running processes, select the "Automatically close ..." option.

4. After the program is installed and SOLIDWORKS is launched, CUSTOMTOOLS notices that the SQL database version is older than the Client version. Update the SQL database to proceed.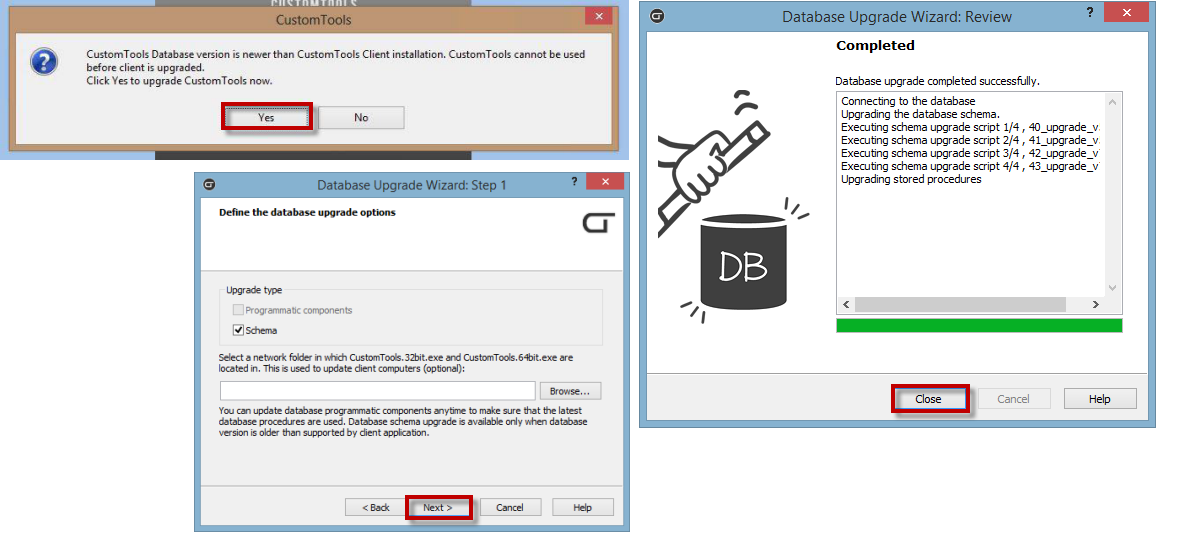 5. When there are multiple workstations to be updated, perform steps 2 and 3 in this guide for each workstation.
The installation package mentioned in step 1 does not need to be re-downloaded if the installation package is placed, for example to an external hard disk or server to which the workstations to be updated are connected. Also the database upgrade in step 4 needs to be performed once. So you can ignore steps 1 and 4 when updating CUSTOMTOOLS in additional client workstations.