After installation of SOLIDWORKS Composer and starting to work with this software, you may occur a behaviour where "Translate" function doesn't work.

This may be due to that SOLIDWORKS Composer doesn't support your GPU, especially in cases where you have multiple GPUs in your system.
To solve this behaviour be sure that your device has system requirements which SOLIDWORKS needs:
https://www.solidworks.com/sw/support/SystemRequirements.html
Also, make sure your GPU is certified by SOLIDWORKS:
https://www.solidworks.com/support/hardware-certification
After making sure your GPU is supported by SOLIDWORKS, also check which GPU driver version is tested and recommended by SOLIDWORKS:

If you need to upgrade your GPU drivers, you can download it from NVIDIA webpage:
https://www.nvidia.com/Download/Find.aspx?lang=en-us
It is recommended to restart your computer after upgrading driver version.
After all previous steps, you need to configure SOLIDWORKS Composer to use supported GPU, to do that follow these steps:
1. Close SOLIDWORKS Composer (in case you opened it after restarting computer);
2. Open "NVIDA Control Panel";
3. From Left Task Pane choose "Manage 3D settings";
4. From settings menu, open "Program Settings" tab;
5. "Select a program to customize" drop-down list select "Dassault Systems Composer";
6. "Select the preferred graphics processor for this program" from the drop-down list, choose "High-performance NVIDIA processor".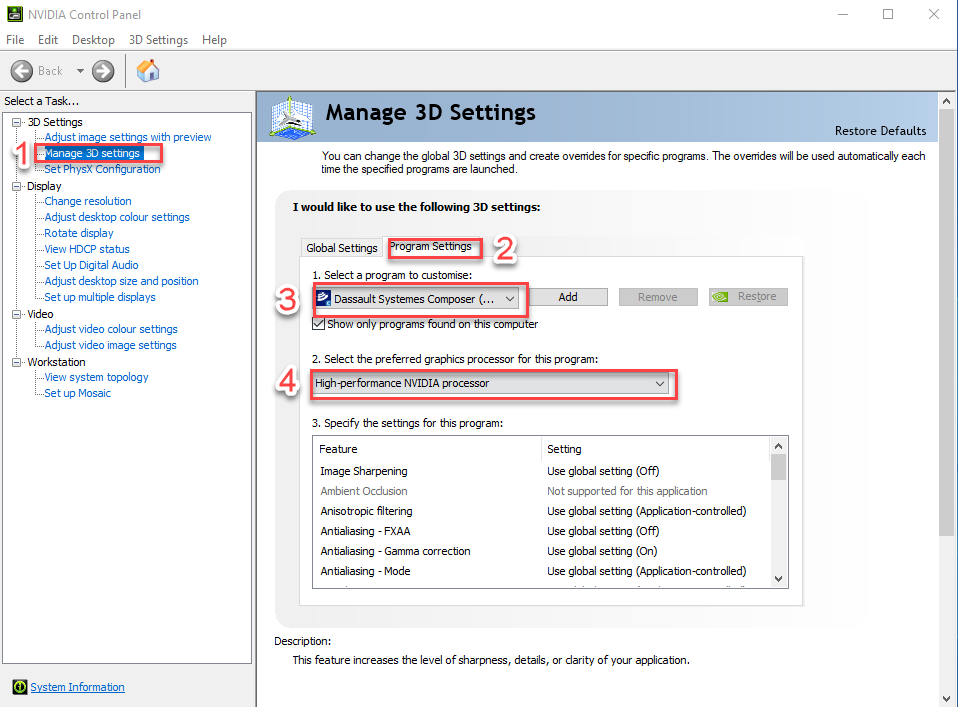 You can try to test SOLIDWORKS Composer "Translate" function, but just to be sure - restart your device in prior.