Question:
Is there a technical tip to improve the "performance" of a Circular pattern with 1000s of features?
Reply:
One method is to limit the calculation of the number of extrusions, and instead show a limited number as surface bodies.
Attached is an example with a roller with 2000 features, where the rebuild time is extremely long. The pins are made with a "Wrap Feature" and distributed with "Circular pattern". It is seen that the Rebuild time is 750 seconds.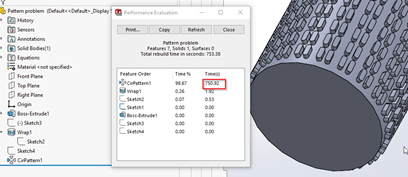 Please se the attached example
Good luck with Circular performance improvement.
Jens-Ole Jensen