Graphics card has a significant role when working with designs in SOLIDWORKS. Also the graphics card driver version has a big impact. SOLIDWORKS recommends always to use the graphics card driver version that is tested and recommended by SOLIDWORKS.
Verify the graphics card driver version and change it if needed by following the instructions below. Instruction applies only to NVIDIA graphics cards.
1. Verify your workstation model, graphics card and graphics card driver version by opening "SOLIDWORKS RX" tool and selecting the "Diagnostics" tab.

Please note the section "Diagnostics Result". If it states that "Your graphics card is supported and the driver is up to date", your graphics card driver version is correct and tested/recommended by SOLIDWORKS. If SOLIDWORKS is functioning normally (no software crashes/hangs/lags or graphical problems) there is no need to change the graphics card driver. You are free to stop reading this article now.


If "Diagnostics Result" section comes up with some other statement, please write down the driver version seen in the section "Your Current Driver".
NOTE: You can verify the same hardware information by opening the "System Information" window by writing the text "msinfo" to Windows Search field and launching "System Information".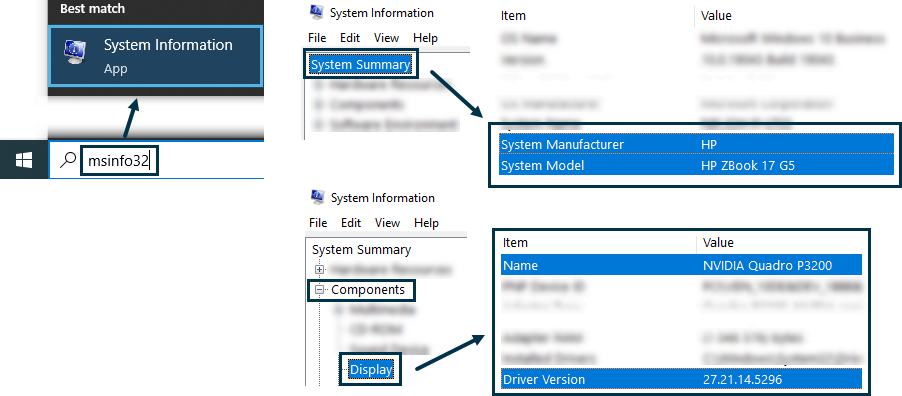 2. CLICK THIS LINK TO ACCESS SOLIDWORKS HARDWARE CERTIFICATION PAGE.
Select the SOLIDWORKS major version, workstation model and graphics card from dropdown menu.
Click the link of the driver in column "Recommended Driver".

3. Link directs to NVIDIA driver downloads page where you have to select the graphics card model from the dropdown menus if the card is not selected by default. When selecting the proper driver to download it is needed to notify the number mentioned in the link "Recommended Driver" in previous step 2. For example, number "R440" corresponds with driver versions starting with number "44" (44X.XX), number "R470" corresponds with driver versions starting with number "47" (47X.XX) and so on. Select the newest (highest in the list) driver starting with that specific number and download the *.exe file to your harddrive.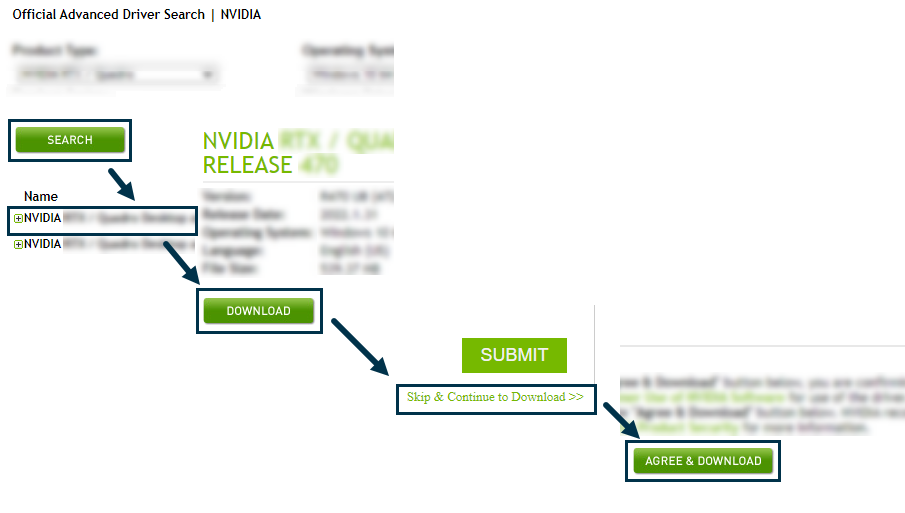 4. Launch the installation of graphics card driver by right-clicking on top of downloaded *.exe file and selecting the option "Run as administrator". Extract the installation files by pressing the "OK" button.

5. Accept the license agreement.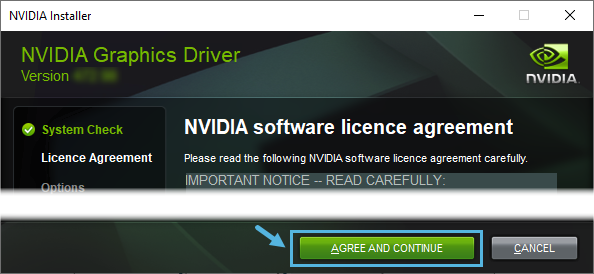 6. Select the installation option "Custom (Advanced)" and option "Perform a clean installation".

7. When installation has been completed successfully, press the "CLOSE" button and restart computer.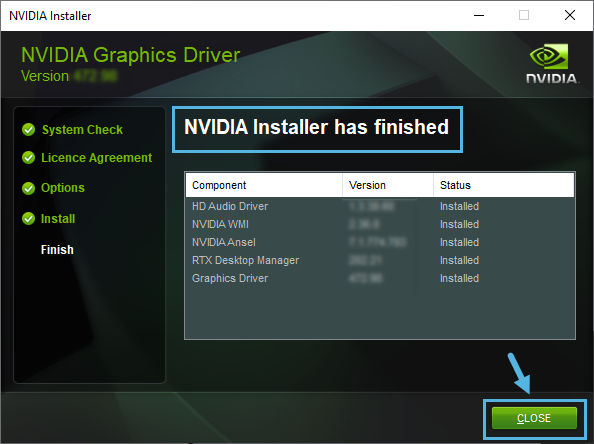 Graphics card driver has now been changed successfully.
Please also notify these articles:
Why SOLIDWORKS/DraftSight uses integrated graphics card and not the external graphics card?
Hardware requirements for SOLIDWORKS
How to launch SOLIDWORKS in SOLIDWORKS RX safe modes