One of the new features presented back in SolidWorks 2018 was the ability for "Online Licensing", in other words; a way to tie your SolidWorks license to your user account instead of a specific computer.
With this, you would no longer have to release the license from the computer every time you bought a new one and you would never more run into the issue of forgetting to release the license from the stationary computer at the office when you had planned to work from home.
Online licensing gave users the ability to go to more or less any computer running SolidWorks, launch the application, log in, and – voila! – the license was transferred to the computer through internet!
Sadly, last summer SolidWorks announced that the Online Licensing functionality will be discontinued on February 5th, 2022, meaning this agile way of managing your SolidWorks license will no longer be possible – or will it?...
For those of you who enjoyed the benefits of Online Licensing, I have some great news! The functionality that came with an Online License has moved to an own type of license meaning there are now three different types of SolidWorks licenses:
Network licenses ("SNL") where the licenses are distributed through a local network, typically the office network,
StandAlone licenses where the license is tied to a specific computer using a serial number. This is the one that you previously could convert to an Online License,
3DEXPERIENCE SolidWorks, the successor of Online Licensing! This type of license is from the very beginning an online license, one that comes with some extra perks. For example, the download, installation, and activation of SolidWorks is done automatically for you! No more searching for installation files or serial numbers, navigating multiple installation options, and so on. Simply click once to initiate the installation and it will take care of it all for you so you can get to business!
Another perk – and this one is, well… phenomenal in my opinion – is the ability to connect more than just the license to your user! "…uh…okay…?" you may ask yourselves but stay with me! The concept is that SolidWorks thought "Hmm… this Online Licensing thing sure is nice, but people need more than just their SolidWorks licenses to do their work. For instance, they need access to their files too when switching between computers. How can we help them with more than just the licensing challenge?" And this is exactly what they've done with 3DEXPERIENCE SolidWorks!
3DEXPERIENCE SolidWorks is much more than just another licensing option. For example, besides the license, you can now bring your CAD data, documents, images, etc. with you when switching between different computers! And this is not just some basic cloud storage like Dropbox, OneDrive, or such - it's a full scale PDM system that enables you to (if you want to!) manage revisions of your files, their maturity (i.e. are the files approved or still in work?) and more.
What I'm trying to tell you is that this time SolidWorks didn't just walk that extra mile, they brought an entirely new universe of opportunities to you and we at PLM Group would be delighted to help you discover how you can benefit from this opportunity!

The target phase-out date is February 5th, 2022.

For SOLIDWORKS 2018 to SOLIDWORKS 2021 users:

SOLIDWORKS Online Licensing will continue to be available until the phase-out date.

SOLIDWORKS recommend that SOLIDWORKS Administrators plan ahead and work with users to switch their online licenses back to machine activation - directly from the SOLIDWORKS Admin Portal - before the phase-out date. Administrators can identify the products configured to use online licensing in the Products tab by doing the following: Under Activated, check the Online Licensing filter and click Search.

After the phase-out date, users will automatically be switched to machine activation when they start SOLIDWORKS. This process will take a few minutes and should not result in any downtime.

For SOLIDWORKS 2022 users:

Online licensing is not available. SOLIDWORKS 2022 products will not use online licensing if enabled. Before running SOLIDWORKS 2022 products, administrators need to change the activation type to machine activation in the SOLIDWORKS Admin Portal.

Additionally, users cannot install SOLIDWORKS 2022 products with the Login feature in the SOLIDWORKS Installation Manager. Users will need to enter serial numbers manually.

Moving SOLIDWORKS to a different machine:

If users need to move SOLIDWORKS products to a different machine, users will need to activate and deactivate licenses manually.

Thank you for your understanding and attention to this change. If you have any questions, please contact your our support or contact SOLIDWORKS directly in the SOLIDWORKS Connect community.
How to - Standalone licenses
_______________________________________________________________________________________
From today you must activate and deactivate your license(es) if you want to work on different computers.
But what should you do if you already converted to an online license? The system should automatically convert your license to a standalone license. But if it hasn't, you can convert your license to a regular standalone license by following these simple steps:
Log onto my.solidworks.com as the administrator of your license(es)
In the right corner press "admin portal"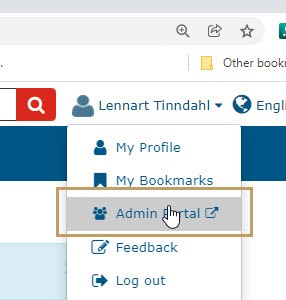 Pick the serial number that you would like to convert

Notice the column "Activated", which states whether the serial number is an online license
Click on "Change to Machine Activation" and then you are back to machine activation of your license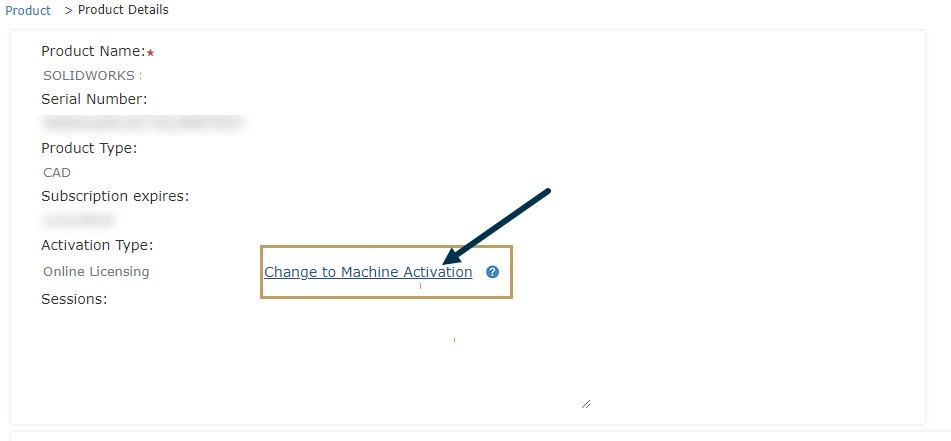 When you restart SOLIDWORKS, you will be prompted to activate your license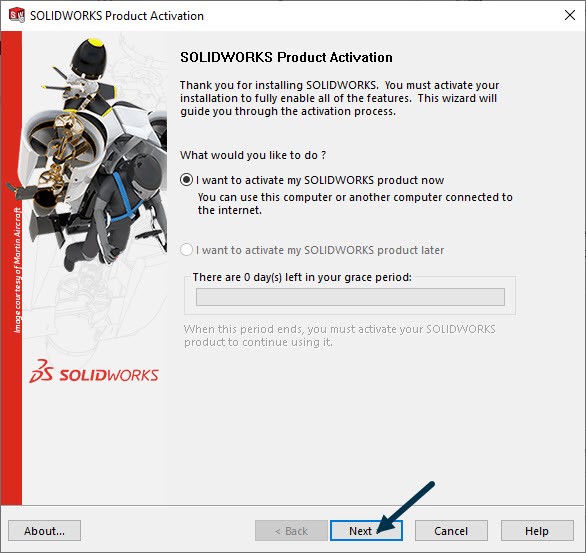 When you do, make sure to fill in with your email, otherwise you cannot proceed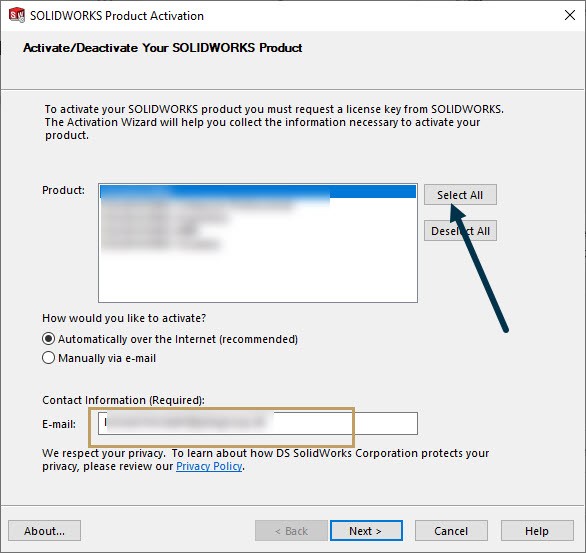 Once that is done, you should be ready to go on with your daily work
If that doesn't work, do this:
There may be situations where the change does not take full effect and your PC will still use online licenses
Before you call your local wonderful support-team, you can go to C:\ProgramData\FLEXNet and delete all files that start with SW_D.



If it doesn't work, give us a call and we'll gladly guide you.