Step 1 - Activating the 3DEXPERIENCE tenant and roles
After purchasing the first roles for the platform, you will receive an email with a link to accept the license terms of your 3DEXPERIENCE purchase. Click the link and follow the procedure described in point 2 and 3 in the email. The email will look similar to the following: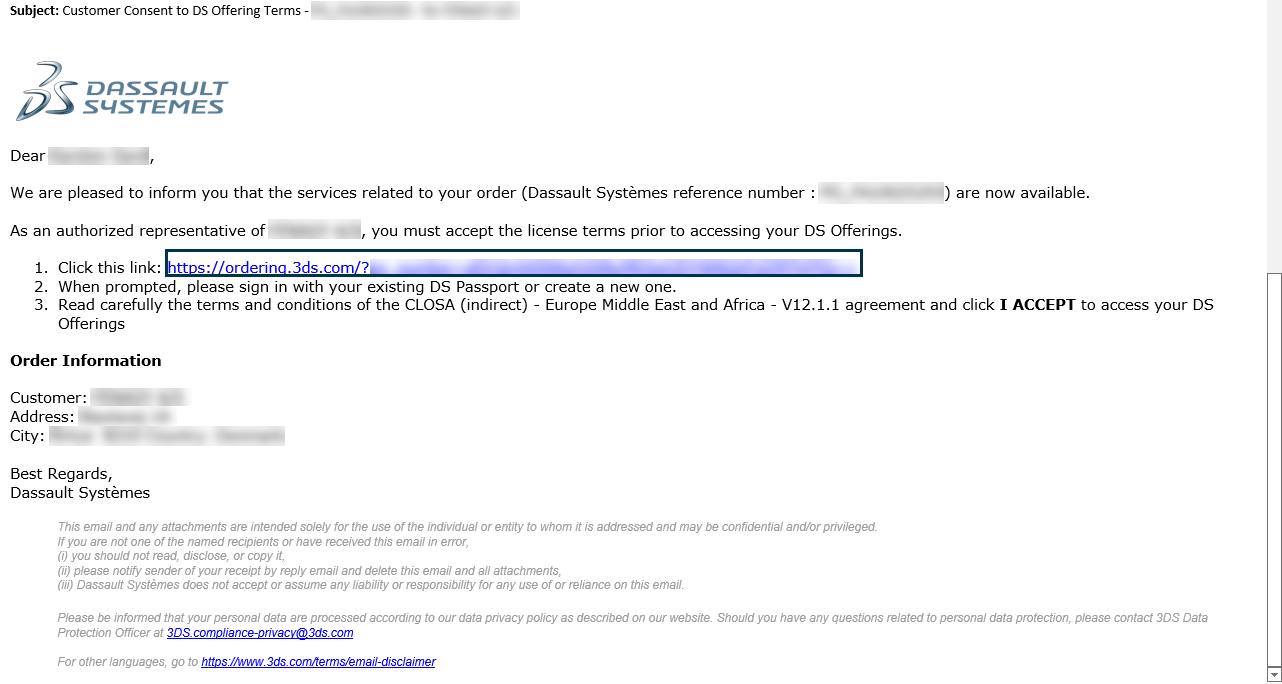 After accepting the license terms you will receive a follow-up e-mail with a summary of the consent given. This e-mail is purely informational, and does not require any action from you: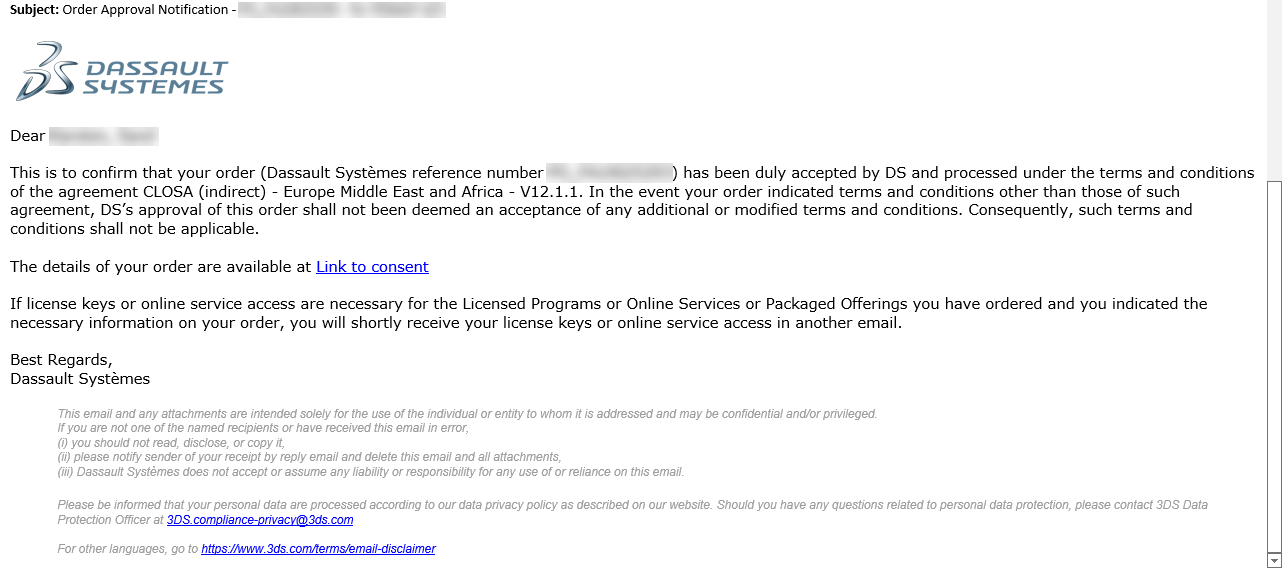 Note: When purchasing additional roles to your 3DEXPERIENCE tenant, the process for activating these will be the same as above.
Lastly you will receive an email with a link to activate your company's new 3DEXPERIENCE tenant. It is important that the link is only used by the person who will be acting as the Admin of your tenant, since clicking the link will generate your company's 3DEXPERIENCE tenant and assign the 3DEXPERIENCE ID used to do so as Admin. Click the link "Click here to become the first licensed user of your 3DEXPERIENCE Platform and Administrator" and follow the rest of the instructions from the email: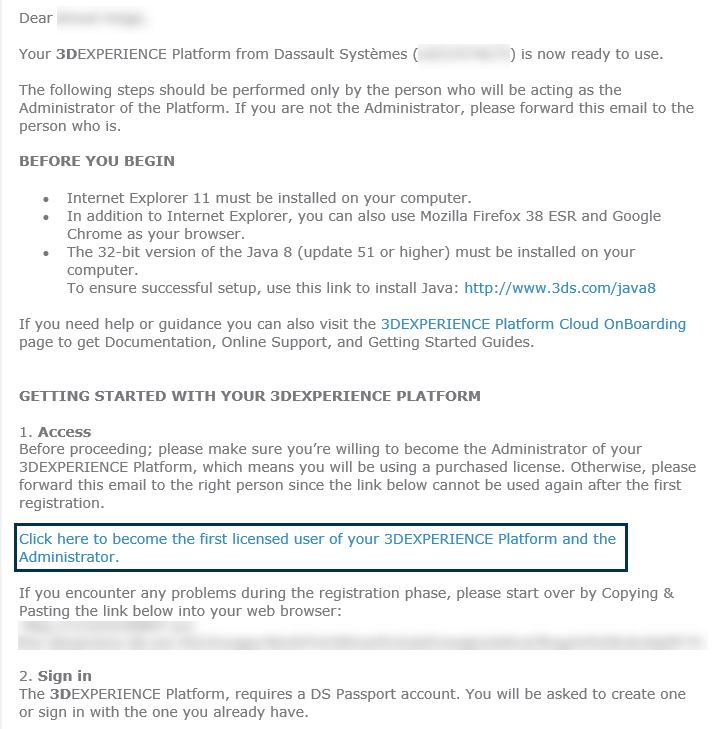 Now your 3DEXPERIENCE tenant is active and ready to use. It is recommended that you bookmark the URL for your tenant for easy access.
Step 2 - Inviting new users and assigning roles
To add new users to your company's 3DEXPERIENCE tenant, go to your "Platform Management" dashboard. On the "Members"-tab, navigate to "Invite & Grant Roles" and click "Invite members".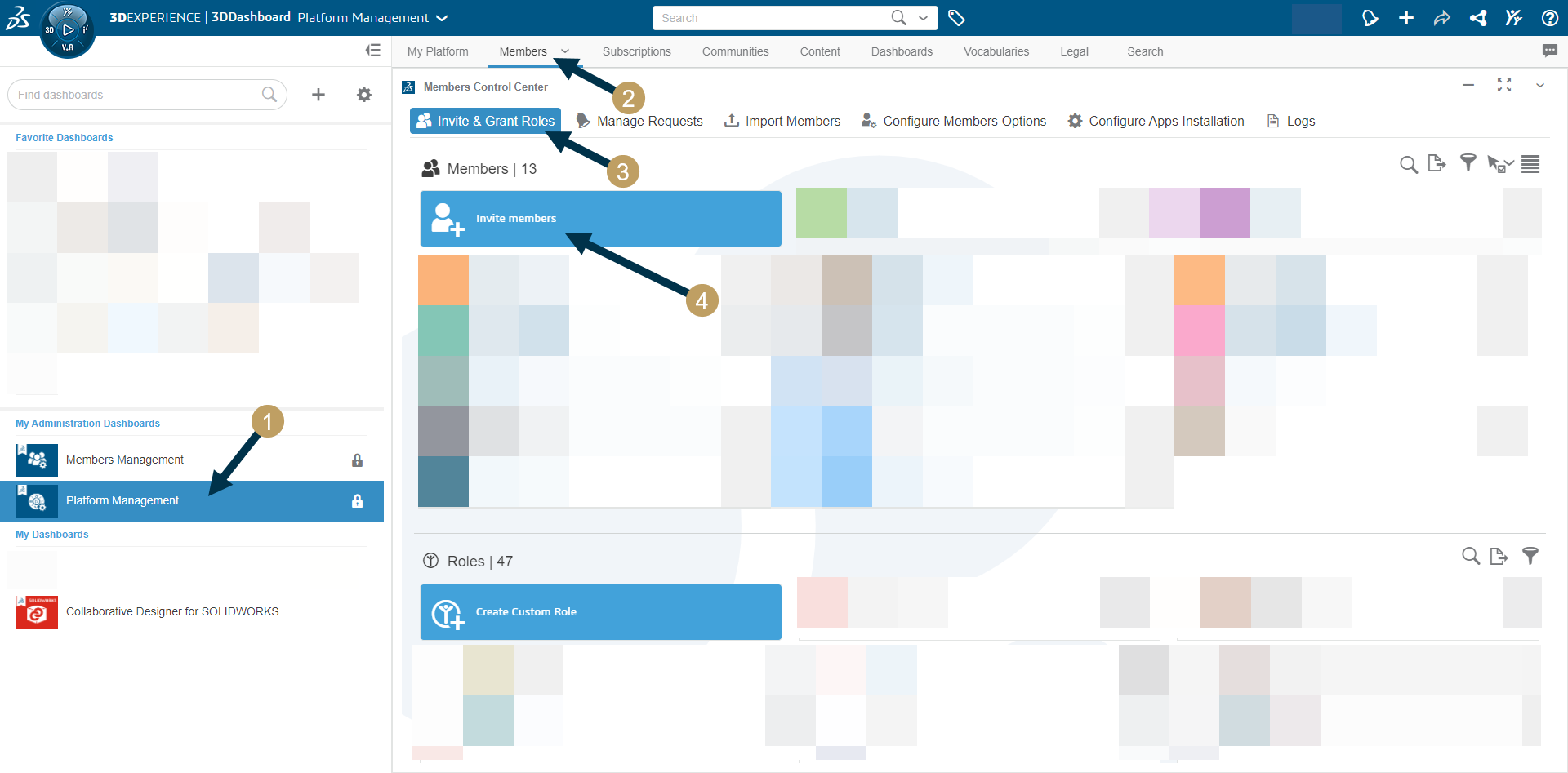 Fill in the "User email", specify "User right" from the dropdown-menu, specify "User location" from the dropdown-menu and specify "Invitation Email language" from the dropdown-menu. You can also choose to write a "Personalized message" for the new user. When satisfied with your choices click "Next".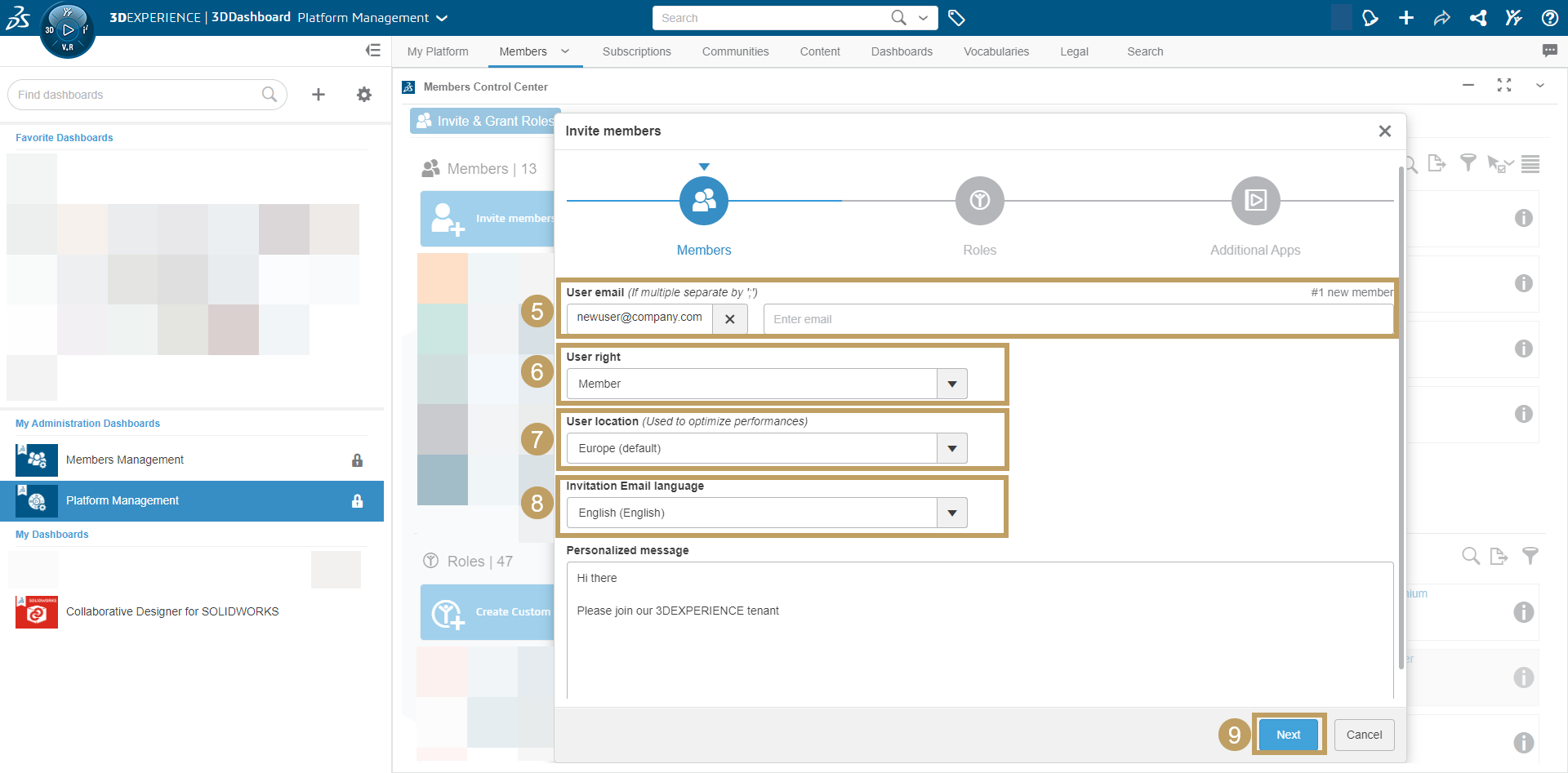 Now it's time for assigning roles to the new user. Every new user on the tenant will automatically be assigned the "Collaborative Business Innovator" role, this cannot be unchecked. Assign any additional roles from the "Available roles with licenses"-list. Some roles like the "Collaborative Designer for SOLIDWORKS" has other roles as prerequisites. When assigning one of these roles the prerequisite role will automatically be assigned as well. When you have assigned the appropriate roles, click "Next".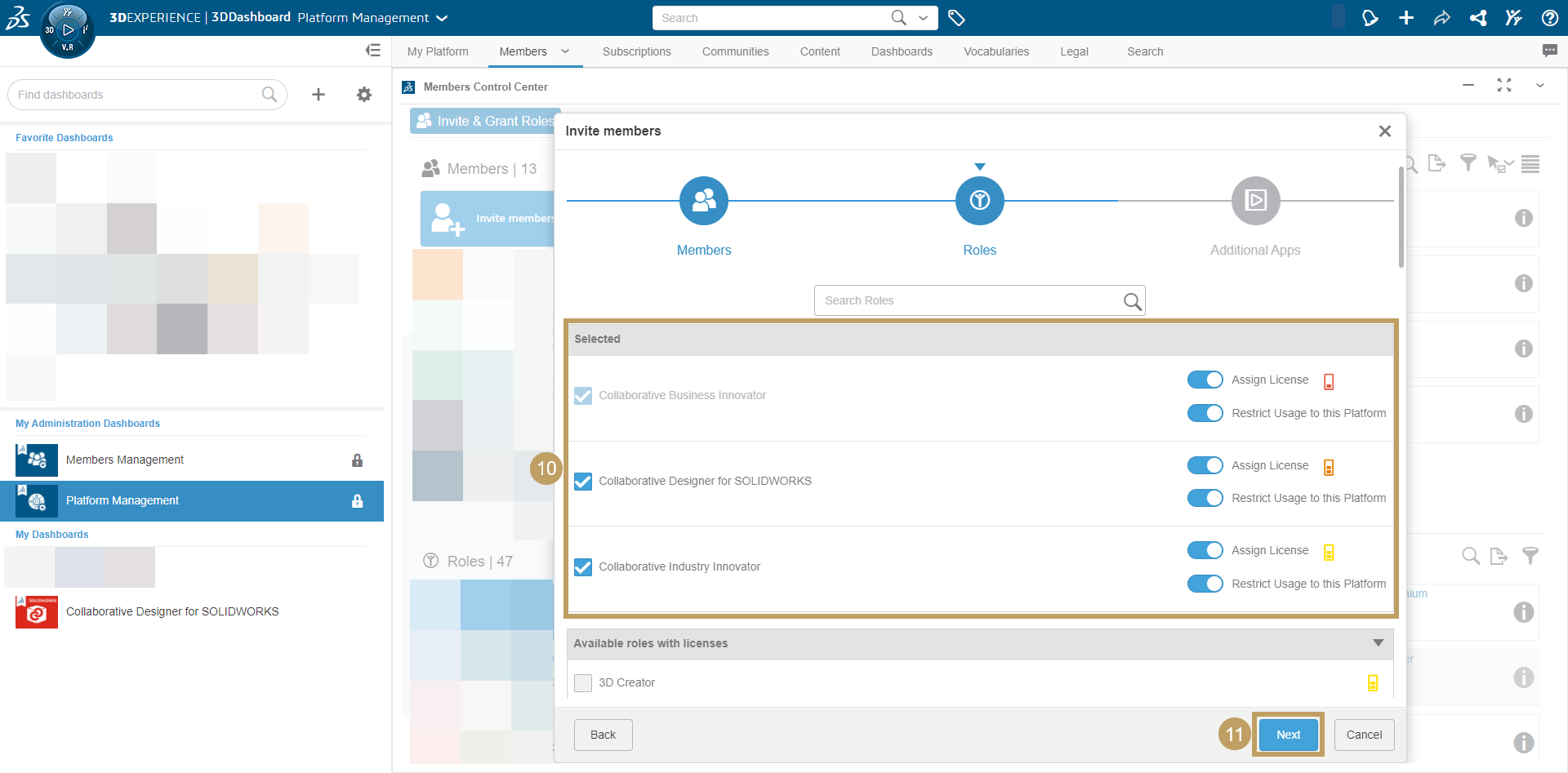 On the next page, assign any additional apps the new user needs to have access to, and click "Next".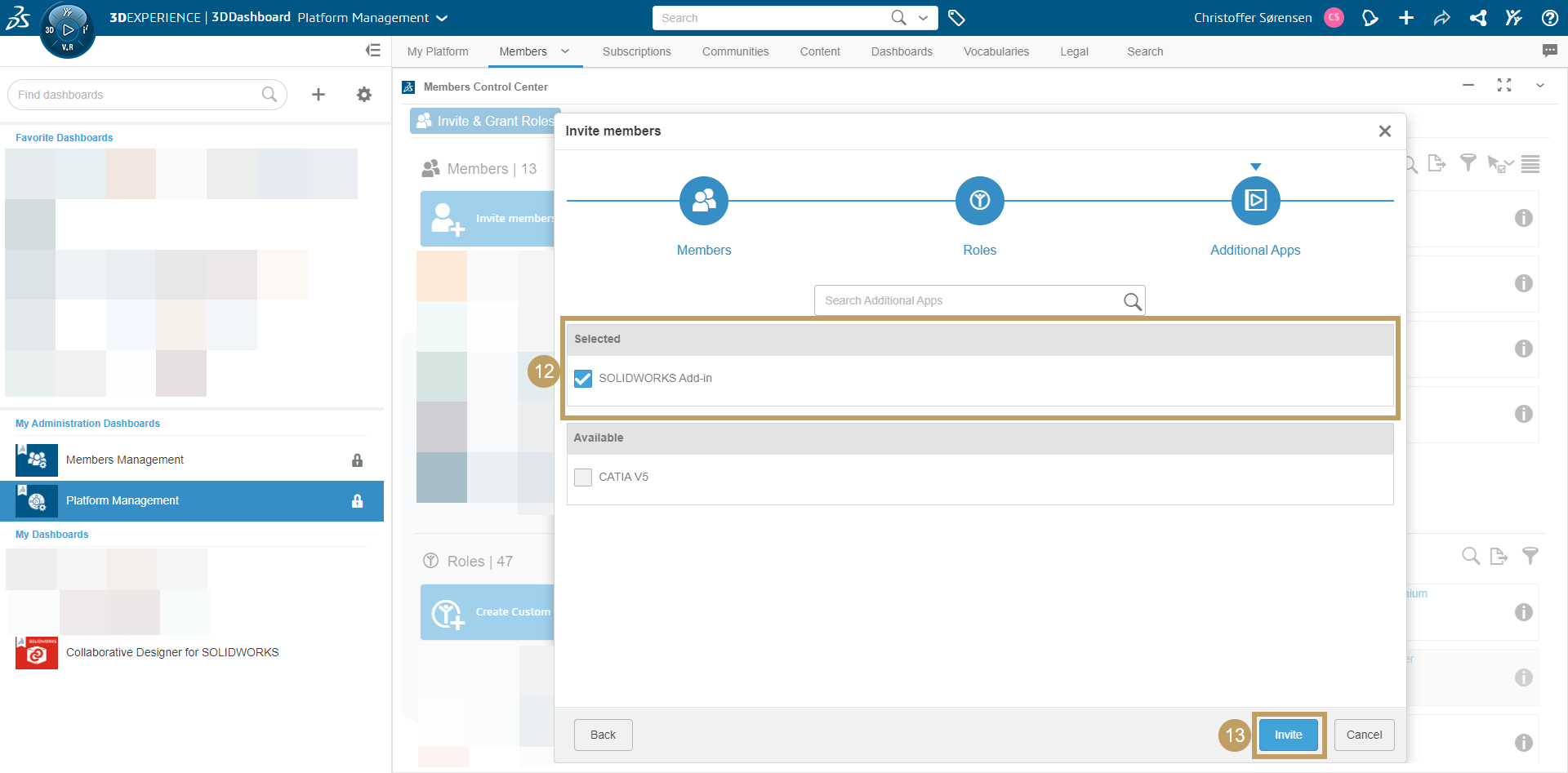 An invite will now be sent to the new user.
Step 3 - Using the 3DEXPERIENCE platform as an Admin/Platform Manager
As a Platform Manager your role is to administer and setup your company's 3DEXPERIENCE environment as well as keep track of users, assigned roles and user rights.
To get the best start we recommend the following e-learning material:
Explore the Platform Manager role (https://eduspace.3ds.com/CompanionManager/ui/index_lms.html?lpId=223511&lang=en&rc_Type=8&lexType=1&utm_source=10473_2_5&utm_medium=por_crs&utm_campaign=C223511&ticket=ST-9242388-dI6e3JWw5VCyyiPEIlAD-cas)
Basic Administration Review and Setup (https://my.solidworks.com/training/master/1004/basic-administration-review-and-setup)
For additional information and e-learning material concerning general use of the platform and other roles, please refer to this article - 3DEXPERIENCE - Quick Start Guide for Users