Most of the time when stumble upon an issue in the program that require a reinstallation, you only need to uninstall and then install the program once again.
But sometimes the issue may be more dire and therefor require a clean uninstall.
In this article we will explain to you how to perform this task step by step.
Uninstall the SolidWorks Connected
There are two ways to uninstall the program, either from the platform or use Windows own method of uninstalling a program.
This part will cover how to do it from the platform.
Go to the platform and inside the compass you search for "SolidWorks connected".
Press the arrow next to the application called "SolidWorks Connected" and press the small icon to initiate the uninstall process.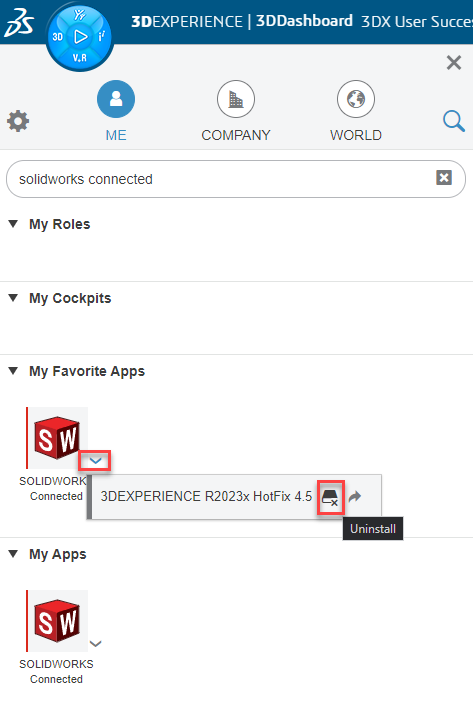 A message will pop up to make sure that you want to uninstall SolidWorks Connected and here you press the "Uninstall" button.

Once again, a window will pop up to make sure you want to uninstall it and that's because it takes some time to install the program and you don't accidentally uninstall it.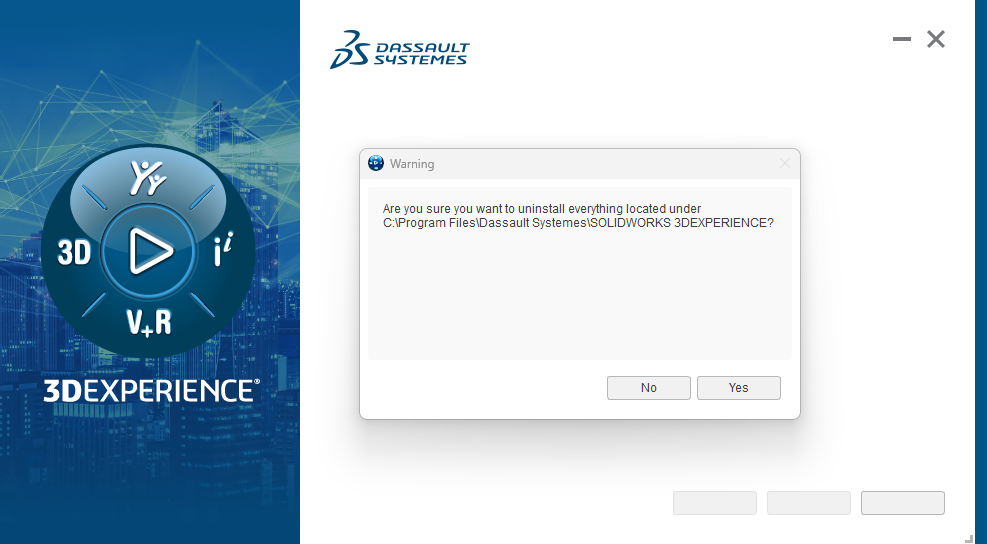 After pressing "Yes" it will start uninstalling SolidWorks Connected.
When the uninstallation has gone through you will need to restart your computer to complete it.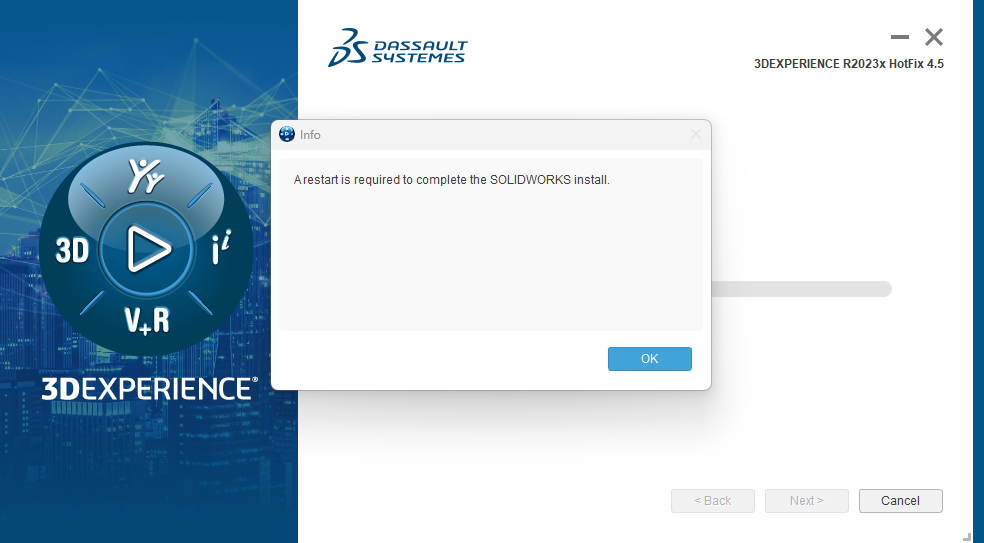 If you prefer to uninstall the program via Windows then follow the steps below.
Uninstall from the Start menu
Select Start -> All apps and search for the app in the list shown.
Press and hold (or right-click) on the app, then select Uninstall.
Uninstall in Settings
Select Start -> Settings -> Apps -> Apps & features .
Find the app you want to remove, select More -> Uninstall.
Clean your system
As mentioned in the beginning you will in some dire situations need to make a clean uninstall of the program. Therefor you will need to do the steps below as well.
There are a few things that still needs to be uninstalled from the computer. These you will uninstall via the Windows method of uninstalling a program or feature.
You are not forced to uninstall them in any specific order, the programs and features you need to uninstall are:
3DExperience Launcher
CEF for SolidWorks Applications
Dassault Systemes Software VC10 (and VC11) Prerequisites x86-x64
Microsoft Visual C++ 2012 Redistributable x64 (and x86)
Same for all Microsoft Visual C++ 2013, 2015-2022 (Both x64 and x86)
Microsoft Visual Studio Tools for Applications 2019
Visual Basic (VBA) 7.1 (Download the Batch-file and run it as admin)
NOTE: If you see other versions of Microsoft Visual C++ Redistributable or Microsoft Visual Studio Tools for Applications, then the recommendation is that you do not uninstall them for the following reasons:
An earlier version of SOLIDWORKS Connected might have installed other versions. Refer to the SOLIDWORKS Installation and Administration guides for historical lists of prerequisites.
Other applications installed these versions. Only uninstall other versions if you know the applications that installed them. Uninstalling other versions might affect the functionality of other applications.
There are a few folders in your system that also needs to be deleted and those are the following folders in bold text.
C:\Program Files\Dassault Systemes\SOLIDWORKS 3DEXPERIENCE
C:\Program Files\Common Files\SOLIDWORKS Shared
C:\ProgramData\SOLIDWORKS
C:\ProgramData\SolidWorks HotFix
C:\ProgramData\DassaultSystemes\3DEXPERIENCELauncher
%AppData%\DassaultSystemes
%AppData%\SolidWorks
%Public%\Documents\SOLIDWORKS
%localappdata%\DassaultSystemes
%localappdata%\SolidWorks
Caution! This next step is the last one and require you to make some changes in the registry of your computer. If you are not sure on how to do things here, it is better to ask for help from your IT. One incorrect change can sabotage your whole operating system.
If you don't have your own IT or they are occupied, then you can call our support and they will help you with this upcoming part.
You can also download our batch-file which will do this process for you. Download it and run it as admin by right clicking on the file. Batch-file
The folders inside your registry that needs to be either deleted or renamed are the following folders in bold text:
HKEY_CURRENT_USER\Software\Dassault Systemes\SolidWorks Shared
HKEY_CURRENT_USER\Software\Dassault Systemes\SolidWorksPDM
HKEY_CURRENT_USER\Software\SolidWorks
HKEY_LOCAL_MACHINE\SOFTWARE\Dassault Systemes\SolidWorksPDM
HKEY_LOCAL_MACHINE\SOFTWARE\Dassault Systemes\SwxConnectors
HKEY_LOCAL_MACHINE\SOFTWARE\Dassault Systemes\V6_Common
HKEY_LOCAL_MACHINE\SOFTWARE\SolidWorks
HKEY_LOCAL_MACHINE\SOFTWARE\Srac
HKEY_LOCAL_MACHINE\SOFTWARE\WOW6432Node\SolidWorks
Now everything on your system has been cleaned from SolidWorks Connected and you can go ahead to install it once again.
Written by:
Technical Specialist