3DEXPERIENCE is a cloud based solution and updates and fixes are pushed to it from time to time, it is important to keep your 3DEXPERIENCE SOLIDWORKS or 3DEXPERIENCE CAD updated so you get access to the newest features and bug fixes.
As a SOLIDWORKS user, you will most likely receive information from new updates to the platform when launching SOLIDWORKS, a message box will display your current version and the version of the newest available update: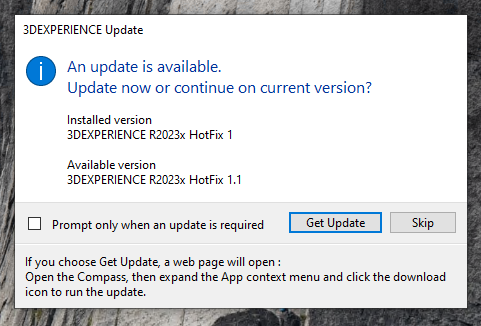 When you click on the "Get Update"-button, SOLIDWORKS will redirect you to the platform, but it will NOT start automatically updating itself. As user, you need to activate the update by yourself from the platform.
1. Navigate to your SOLIDWORKS-role on the compass on the platform



3DEXPERINCE SOLIDWORKS Users



SOLIDWORKS CONNECTOR Users
2. Go to the role and find the SOLIDWORKS Application



3DEXPERINCE SOLIDWORKS Users



SOLIDWORKS CONNECTOR Users
3. Press the arrow on the right side of the application and select the update button from the menu that opens from it




This will activate the update process for your product, you might also want to do the same process for the rest of the applications in your SOLIDWORKS-role, to make sure they are also up to date, but only do this if you are using these applications.